WordPress has this really powerful capability of creating multiple sites using a single installation. Through this we do not have to leave multiple sites capability to our hosting companies as they would charge us more. Instead your existing site can be easily turned into multisites, with each site assigned a subdomain or a path.
In this articel we want to look at solutions for cloning an existing site. This way we can simply adapt a site we have worked instead of creating a new site from scratch.
(a). Cloning Site using NS Site Cloner
The NS Cloner saves multisite admins and developers TONS of time by cloning existing sites in a multisite network to a completely new site in a few seconds.
The NS Cloner will take any existing site on your WordPress multisite network and clone it into a new site that is completely identical in theme & theme settings, plugins & plugin configurations, content, pictures, videos, and site settings.
Everything is preserved and intelligent replacements are made so that the new site settings reflect your choices for the name and title, and have automatic URL replacements and other background updates to make sure the new site works exactly the same way as if you had taken the time to set it all up manually.
Here are it's features:
Copies an entire site in seconds
Works in subdomain or subdirectory mode
Copies all widgets, menus, and theme and plugin settings
Copies all pages, posts, custom post types and taxonomies
Copies all uploaded media files and associated data
Works in the background to avoid timeouts or memory shortages on large sites
You can close your tab without interrupting cloning, or stay and watch the progress live
Advanced validation and preemptive issue detection
Robust process logging to help with troubleshooting
Hook-rich cloning pipeline for developers to extend
Translation ready
Here is the demo image:
Step 1: Install NS Site Cloner
Start by installing the NS Site cloner from the WordPress.org repository.
Step 2: Clone a site
Navigate over to your Network Dashboard > NS Cloner.
Select the site you that want to clone, and enter the desired URL and title of the new site.
Clone away with one click!
Read more
Read more about NS Site Cloner here.
(b). Cloning a MultiSite site using MultiSite Clone Duplicator
MultiSite Clone Duplicator adds a Duplicate Site functionality to your network installation.
It allows you to clone any site of your network into a new one : all data, files, users and roles can be copied.
It is useful when you want to create multiple sites from the same template : Don't waste your time copying the same configuration again and again !
Here are it's core features:
Clones any site of your wordpress multisite installation
Copies all posts and settings
Generates log files (if option is checked)
Copy all files from duplicated site (if option is checked)
Keep users and roles from duplicated site (if option is checked)
Configure which site is clonable (so you can define an unique "pattern" site)
Fully hookable
Command line ready (provides a WP-CLI subcommand)
Here is a screenshot:

Step 1: Install it
To install it navigate to WordPress Plugins repository while logged in your wordpress dashboard and click install button. Activate it once the installation is complete.
Step 2: Clone
After activation, navigate to My Sites > Network Admin > Duplication and duplicate the site.
Read more
Read more about this plugin here
Cloning/Duplicating single Post/Page
In the above solutions, we've seen how to clone or duplicate the whole site in a wordpress multisite network. However what about if you simply want to clone a single post or page? Well here are the solutions:
(a). Clone Post using Multisite Post Duplicator
It is a wordpress plugin allowing you to duplicate/Copy/Clone any individual page, post or custom post type from one site on your multisite network to another.
Custom fields
Related post meta
Custom post types on your network (make sure post type exists in your destination site)
Featured image
Images within post content
Tags
Categories. (If the category doesn't exist in the destination site then the category is created and assigned to the post)
Taxonomy terms. (make sure taxonomy is also registered on your destination site).
Parent and child relationships (must use batch duplication option to achieve this).
Site Media files to other sites on your network
ACF Fields
ACF Field Groups (sync field groups within your network!)
Step 1: Installation
Install the plugin from wordpress plugins page. Or download it, extract and upload to the wp-content/plugins folder. Then active the plugin in the plugins menu in your wordpress dashboard.
Step 2: Duplicate Post/Page
To customize settings go to Setting > Multisite Post Duplicator Settings. Here is sample usage: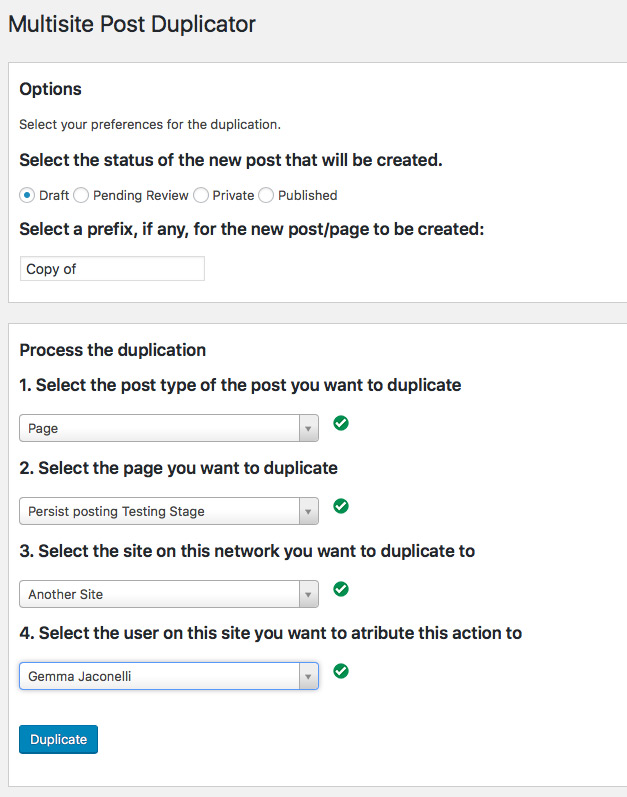 Read more
Read more about this plugin here.