The ability to provide a communication platform between individuals or groups of users is one of the most contributing factors to the rapid growth of the web and the internet as a whole over the last 20+ years. Social Networks emerged around at the beginning of the milineum. However chat bulletins and forums had existed before the conventional social media platforms like twitter and facebook emerged.
Forums provide the option of communication, texting, sending multimedia etc between individuals and amongst groups of people. You can create a public chat room or make it provide, or for just small community.
WordPress provides us the capability to build forums. This is extremely powerful as we can build a fully functional and professional forum in minutes. In this article we want to look at how to use various plugins to create forums in wordpress.
Let's look at the options:
Solution 1: Use bbpress Forum plugin
bbPress is forum software from the creators of WordPress. Quickly setup a place for asyncronous discussion, subscriptions, and more!
Here are it's features:
Simple Setup
Easy to setup.
Easy to moderate.
Fast, and clean.
Fully Integrated
One central account.
One unified admin area.
One click install.
Single Installation
Simple step-by-step installation walks you through your options.
Multisite Forums
Divide your site into sections.
Allow your users to create content.
Step 1: Install it
Here is how you install this plugin:
From your wordpress dashboard, go to: 'Plugins > Add New'
Search for 'bbPress'
Activate bbPress from your Plugins page. (You will be greeted with a Welcome page.)
You can also download it manually from here.
Step 2: Use it
Once activated, you will see a Forums menu item in the wordpress admin menu. Click it and create a new forum. See the screenshot below: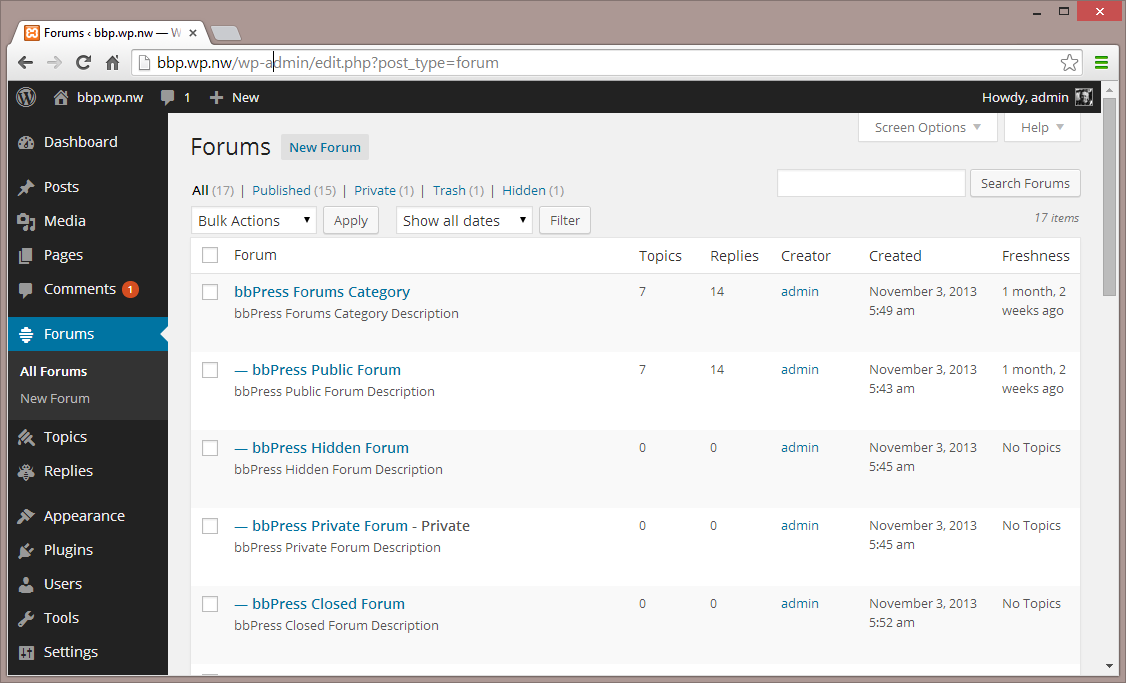 Here's an example of frontend: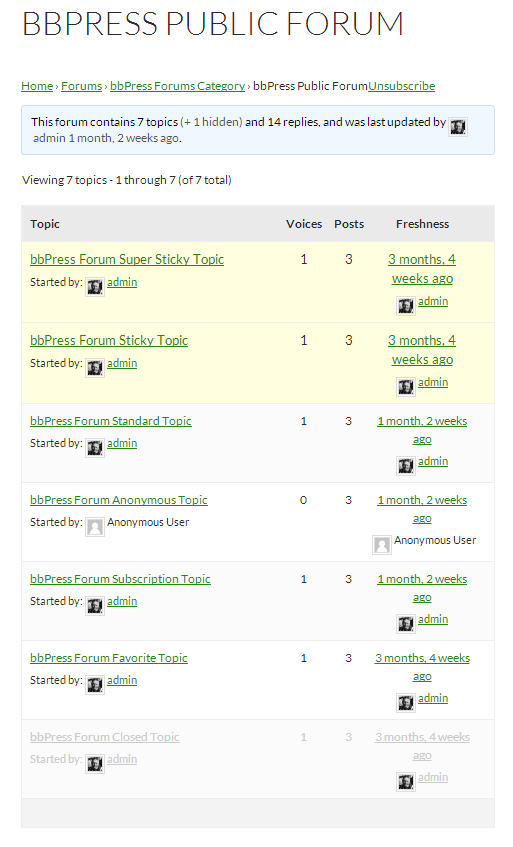 Reference
Find more about this plugin here or here.
Solution 2: Use wpForo Forum plugin
This is another Full-fledged yet easy and light forum solution for your WordPress website.
It comes with modern and responsive forum layouts and styles. Here are it's features:
Designed for small and extremely large forums/communities.
Migrate from other forums using Go2wpForo tool.
Four different forum layouts and designs.
Six set of forum color styles including dark style.
Super responsive forum on all kind of devices.
Live user notification system
Built-in forum SEO functions.
Built-in forum Sitemap and Search Engine ping.
Built-in forum Cache System.
Built-in forum Antispam and Akismet integration.
Advanced forum user profile system.
Forum Member Rating and Badges.
Built-in forum/topic subscription.
Drag and Drop forum management system.
Topic and Post front-end moderation.
Forum topics and posts Read / Unread logging.
Topic Tags and Tags Widget.
Forum styles with different colors.
Built-in, powerful forum Usergroup system.
Forum Access sets per Usergroup per Forum.
Forum Phrase System for quick translation.
WordPress .MO/.PO translation files.
Tools and options for GDPR Compliance
Social Network Share Buttons
BuddyPress Integration
Ultimate Member Integration
Step 1: Install it
Go to 'Plugins -> Add New', then search for this plugin. Install it by clicking the install button. Then activate it. You can also download it manually from here.
Step 2: Use it
After activation you can find forums on /community/ page. Check the screenshot below:
To manager forums go to Dashboard > Forums > Forums admin page. Check the screenshot below:
Reference
Read more about this plugin here.
Solution 3: Use Asgaros Forum plugin
Asgaros Forum is suitable if you want to extend your website with a lightweight and feature-rich discussion board.
It is easy to set up, super fast and perfectly integrated into WordPress. Here are it's features:
Simple Content Management
Profiles & Members List
Notifications & Feeds
Powerful Editor
SEO-friendly
Reactions
Uploads
Search
Polls
Widgets
Statistics
Ads Management
Guest Postings
Approval, Banning & Reporting
Moderators, Permissions & Usergroups
Customizable Responsive Theme
Multilingualism
Multiple Instances
Multisite Compatibility
myCRED Integration
Step 1: Install it
In your wordpress dashboard menu, go to 'Plugins -> Add New'. Then search for Asgaros and click install to install the plugin. Activate it. You can also manually download the plugin here.
Step 2: Use it
After activation, a forum will be automatically created. You can add it to your website menu so that users can start posting.
Here are the screenshots: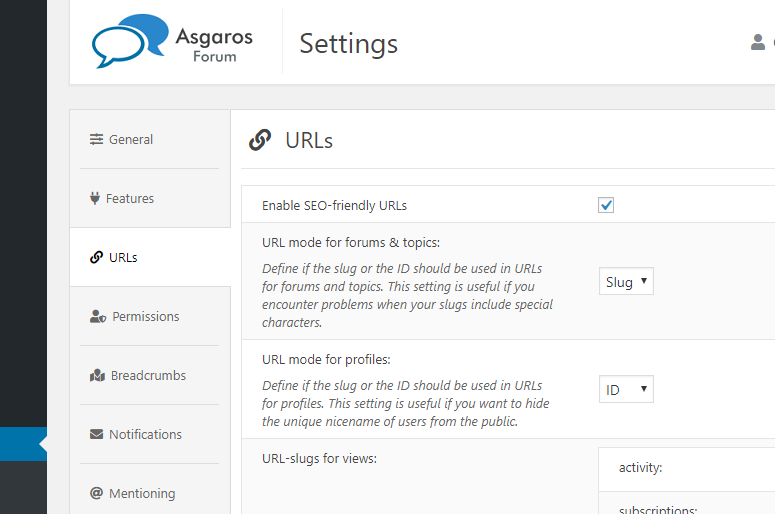 Solution 4: Use Discussion Board Forum plugin
Discussion Board is an easy way to add a forum to your WordPress site. It has a one-click installation and stacks of essential features to build a robust wordpress forum.
Here are some if it's features:
Users can register and log in via a front-end form
Users post new forum topics via a simple form
Each forum topic is displayed on its own page where other users can reply
Spam reduction through limiting of the number of times a user can repost, or whether a post is held for review before going public.
Discussion Board is designed to work with any theme.
Discussion board has numerous shortcodes.
You can use this plugin to create:
Community forums
School or other education sites
Training websites
Support forums
Discussion forums
Niche sites
Discussion groups
Question and answer sites
Technical forums
Ecommerce sites
Bulletin boards
Job boards
Step 1: Install it
Go to 'Plugins > Add New', search for 'Discussion Board'. Activate Discussion Board form the Plugins page.
Step 2: Use it
If you want to update settings go to 'Discussion Board > Settings'. Otherwise that's it. Check below screenshot to see this forum plugin in use: