Engaged customers are likely to not only purchase more of your products but also share them as well as referring others. This not only improves your revenue but also the Return on Investment in general as well as Customer Life Value.
The best form of engagement with a customer is to offer points and rewards. This motivates the customer to take more action and explore you store. Points aren't just being awarded when a customer spends money but also when he or she does other activities like signing up, referring other users etc.
In this tutorial we will look at how to engage customers with points and rewards. We will be exploring how to do this via free WordPress plugins. We do this in step by step manner.
Here are the solutions:
Solution 1: Use Points and Rewards for WooCommerce plugin
This is a points management plugin that engages customers by offering them points on store activities like signup, purchase, referrals, etc.
Once offered, customers can redeem these points to buy products at your store or participate in your membership program with the WordPress loyalty points plugin. With the reward program at your WooCommerce Store, you can improve sales, Return On Investment(ROI), conversion rate, Customer Lifetime Value(CLV), and referral marketing scope.
Here are the core features of this plugin. This plugin enables you to:
Offer points on signup, referrals, purchase, etc. to engage your customers
Create a membership program to reward loyal customers with exclusive offers
Track the points transaction of every customer with point log report
Manually update the points of your customers from the points table feature
Notify customers through email for every point's transaction
Offer reward points in different languages with WPML Multilingual support
Change the point value for the order total and cart redemption
Assign a similar point value to all simple products with global point assign feature
Offer a specific number of points for a set price range of the order value
To get started:
Step 1: Install the plugin
Go to 'Add New Plugin' in your WordPress dashboard, then search for Points and Rewards for WooCommerce and click install. After installation activate the plugin.
Step 2: Start using
For example you can:
Reward Points on Actions
when the user:
Signs Up– Merchants can offer points on unique customer sign-ups.
Refers other users – When John shares his referral link and Mike signs up using the referral link of John , John is rewarded points. With the WordPress point system plugin, users can share their referral links on Facebook, Twitter, Email, and WhatsApp directly from their accounts.
Spends a certain Amount - As a shop owner you can set the points to be credited to the customer's account against each penny they spend on their store via the conversion feature.
Purchases a Product– Merchants can assign a global point value to all simple products of their store so the customer gets the same number of points on the purchase of any product.
Redeem Points
Your Customers can then redeem their points either on the cart or at the checkout page by entering the points in the "Apply Points" field.
Assign Memberships
Merchants can create their own membership system based on rewards points.
Here are demos:
For example here is a configuration page:
Here is the point log table: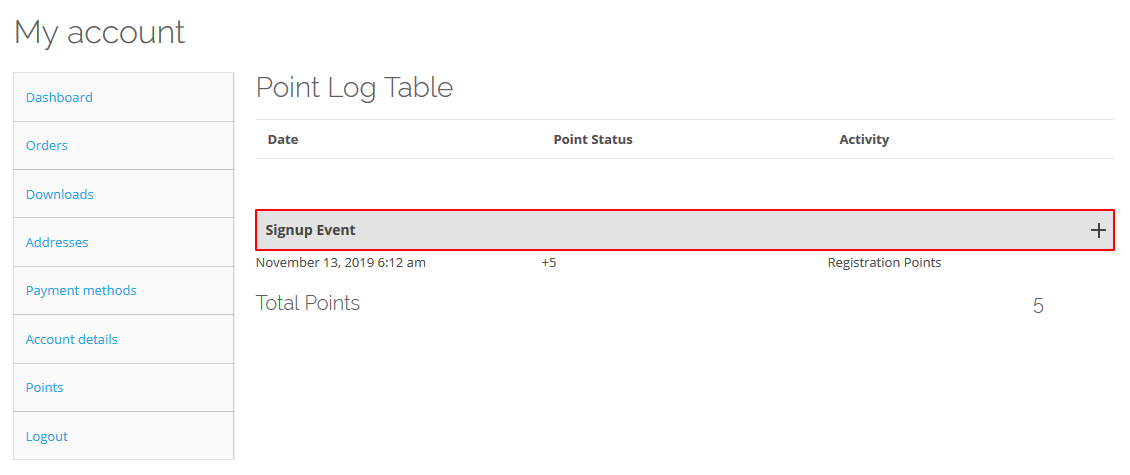 Here is sharable referral link: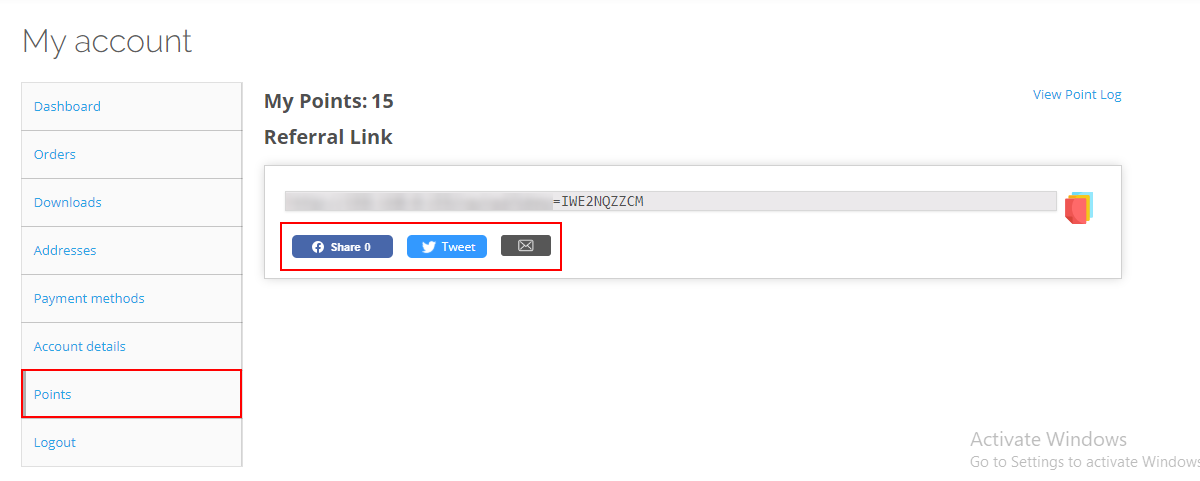 Here is how you assign points in the cart:
Here is the points table:
Reference
Find more about this plugin here.