One of the little frustrations of using wordpress is that for a long time they haven't added a straightforward way of uploading profile image. If we can upload images to the media library shouldn't we be allowed to also upload a profile image for the admin. In wordpress by default you have to navigate to another site to change the profile image and this is not very convenient for such a basic need.
In this tutorial you will learn the easiest way to upload a profile image without touching any code or going to an external website.
(a). Use WP User Profile Avatar
With this plugin, you can change the default WordPress avatar or User profile picture.
It allows you to use any photo uploaded into your media library or even a custom URL.
Features
Here are it's features:
Lightweight and easy to use.
Upload an avatar image from media library or local computer.
Set avatar image using custom path url.
Visibility option whether show avatar or not.
Display user profile avatar shortcode [user_profile_avatar].
Upload avatar shortcode [user_profile_avatar_upload].
Allow anyone (Contributors & Subscribers) can upload avatar.
Disable Gravatar and use own custom avatars.
You can rate avatar as G, PG, R, X based on your appropriateness.
Allow to set default avatar. Default Avatar Allows you to pick a default image when no avatar exists.
SEO & Developer Friendly.
Here are the steps to follow to use it to change profile photo.
Step 1: Install WP User Profile Avatar
Start by installing the WP User Profile Avatar from the WordPress.org repository.
Step 2: Actiave the Plugin
The next step it to activate the plugin from the plugins menu in the dashboard.
Step 3: Set new user profile avatar from admin panel.
Go Admin Dashboard -> Users -> All Users –> Select any user profile you would like to edit.
Find WP User Profile Avatar section, You can give new avatar url path or you can upload avatar using media library.
Update User.
That's it. Check the image below: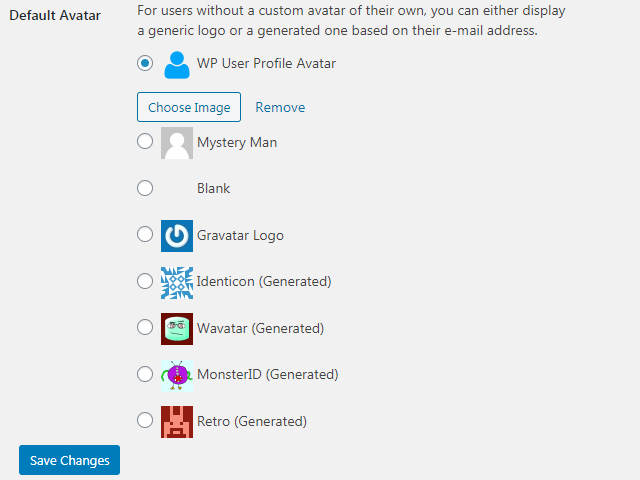 How to show the Profile Image in the Frontend Anywhere
This plugin provides the capability to use shortcode to inject the profile image anywhere in your site. Use the following shortcode:
[user_profile_avatar]
That's it. Have a nice day!